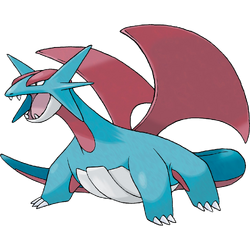 Dallas's Salamence
Debuts in
Starting Journey
Evolves in
Prior to Starting Journey
Prior to Starting Journey
| | |
| --- | --- |
| Current location | With Dallas |
→
→
This Pokémon spent unknown number of episodes as Bulbasaur and unknown number of episodes as Ivysaur.
Dallas's Salamence is one of Dallas's Pokémon.
History
Not much is known about Salamence. The only few things known is that Dallas had Salamence she was a Bagon and she is now one of his powerhouse Pokémon and his main use of transportation when he isn't taking his police car. Dallas prefers to use Salamence over the car most of the time.
Personality and characteristics
Moves used
None of Salamence's moves are known.
Ad blocker interference detected!
Wikia is a free-to-use site that makes money from advertising. We have a modified experience for viewers using ad blockers

Wikia is not accessible if you've made further modifications. Remove the custom ad blocker rule(s) and the page will load as expected.